WE DO NOT HAVE ANY ECLIPSE VIEWING GLASSES TO GIVE OUT!
The Solar Eclipse is coming August 21st! See the eclipse between 1:45 and 2:45pm on August 21st. Make sure you protect your eyes with eclipse glasses or binoculars with solar filters. NEVER use regular sunglasses to observe the sun as they do not provide adequate protection.
All eclipse glasses are sold out on the NASA-approved website, but some binoculars remain:
https://eclipse.aas.org/resources/solar-filters
Our Eclipse Viewing party on Monday is FULL, but here is another way to safely view the eclipse using old-fashioned methods: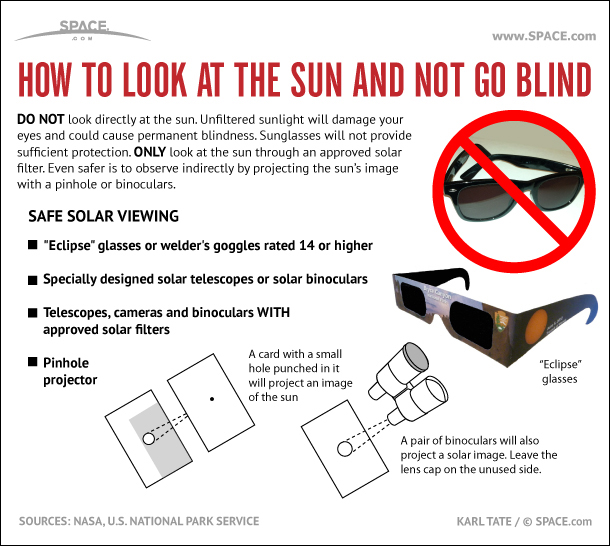 Source SPACE.com: All about our solar system, outer space and exploration
Check out what the solar eclipse of June 1918 was like here: http://ctdigitalnewspaperproject.org/2017/08/coming-solar-eclipse-mirrors-that-experienced-in-june-1918/
---
Eclipse Viewing Party-FULL
You may join us for the NASA TV viewing if you wish, but all glasses are registered and spoken for, sorry.
Monday, August 21st from 12:00pm-3:00pm
Join us-drop in as we show NASA TV's program of coverage of the 2017 Total Eclipse hosted from Charleston, SC.  The main program will cover the path of the eclipse from Oregon to South Carolina. "The program will feature views from jet aircraft,
high-altitude balloons, satellites and specially modified telescopes. It will also include live reports from Salem, Oregon, Idaho
Falls, Idaho, Beatrice, Nebraska, Jefferson City, Missouri, Carbondale, Illinois, Hopkinsville, Kentucky, Clarksville, Tennessee and at
our home base at the College of Charleston (SC)".
---
New Museum Passes sponsored by the Friends available!
Mystic Seaport-Mystic, CT (50% off for 2 adults and 3 Children)   1-888-973-2767
White Memorial Nature Center and Hiking trails– Litchfield, CT 2 adults and 4 kids free. (860) 567-0857
Please Buy a Brick for Oxford Library! More information from the Friends of the Library in Oxford here.
Click this link: Order Bricks to place an order online. If you cannot order online, stop by the library to place your order. 
*** PLEASE NOTE: SYMBOLS UNDER THE MEDALS/NATIONALS SECTION WILL ONLY FIT ON 8X8 BRICKS***

Thank you for your help!
---
For accessing our new Graphics and Comics e-collection, click on the button below, go to Create an Account on the top right, and fill in your library card number, name and email. Then browse hundreds of comics and graphic novels on your computer, or download the free app onto your device. All ages are available, and can be limited by middle school, high school, and adult only.
For help accessing it on your devices, go to the help page ComicsPlus Download Guide .
---
Adult Programs: Event Registration Link

Adult Book Discussion Group
Please join us
at 6:30pm on Thursday, September 21st!
The Trespasser by Tana French

Being on the Murder squad is nothing like Detective Antoinette Conway dreamed it would be. Her partner, Stephen Moran, is the only person who seems glad she's there. The rest of her working life is a stream of thankless cases, vicious pranks, and harassment. Antoinette is savagely tough, but she's getting close to the breaking point.
Their new case looks like yet another by-the-numbers lovers' quarrel gone bad. Aislinn Murray is blond, pretty, groomed to a shine, and dead in her catalogue-perfect living room, next to a table set for a romantic dinner. There's nothing unusual about her—except that Antoinette's seen her somewhere before.
And that her death won't stay in its neat by-numbers box. Other detectives are trying to push Antoinette and Steve into arresting Aislinn's boyfriend, fast. There's a shadowy figure at the end of Antoinette's road. Aislinn's friend is hinting that she knew Aislinn was in danger. And everything they find out about Aislinn takes her further from the glossy, passive doll she seemed to be.
Antoinette knows the harassment has turned her paranoid, but she can't tell just how far gone she is. Is this case another step in the campaign to force her off the squad, or are there darker currents flowing beneath its polished surface?
---
Check out the progress at the new Library site, 49 Great Oak Road-Pictures available here:
August 3, 2017
---
WE NEED YOU! Interested in helping us improve our new library space? We are looking for volunteers to help our Friends.  If interested, please call or come in to sign up to help.
---
To sign up for Wowbrary, which is a service that sends you free weekly emails featuring Oxford Library's most recent and wonderful new books, DVDs, and CDs we acquire each week, click here: Sign up for Wowbrary emails. Then enter the ZIP code, choose the circle next to Oxford Library, enter your email address twice, and click submit. Then you are all set to receive our weekly updates. Wowbrary allows you to immediately place reserves on all items you see of interest to you by clicking on the titles.

---
 Check out these new reference links:


Newsbank-Find A Topic
America's News
Connecticut Post Newspaper
Waterbury Republican-American Newspaper
---
DONATIONS:  Please contribute to the Friends of the Library in Oxford. Every dollar you donate to the Jane D. Weiss Family Foundation will be matched to double the donation to the Friends of the Library in Oxford. More information can be found here.
Donations of $25 and over with your name and address will be acknowledged as a charitable tax deduction. Thank you for your continuing support.
---
Kindle Titles available! Please check out our 2 Kindles donated by the Friends of the Library in Oxford. We just added numerous titles to both machines — the newest in fiction and nonfiction bestsellers are available. Come by the library to check them out! See title list.
---
Comments, suggestions or questions? Contact the webmaster at staff@oxfordlib.org
The Oxford Public Library is monitored by video surveillance cameras to deter criminal activity against the Library's property, staff and patrons.