The next meeting of the Friends of the Library will be
Thursday, April 10th at 7pm.

Sign up for Wowbrary (Click Wowbrary to start) -

free weekly alerts of all our newly added materials!

eSequels indexes character, location and subject as well as author and title so you can identify a series that you may recall only vaguely.

eSequels gives brief annotations that describe each title without "giving away" any surprise endings.

And last, but most important for some readers, eSequels lists the novels in the correct reading sequence so you can begin at the beginning rather than blunder into the middle of "Act III."
---
Looking for books and authors just like one you have read? Try using our new databases Novelist or Novelist for grades K-8.
---
Adult Programs:
Book Discussion: Join us on Thursday, March 20 at 6:30pm for our next adult book discussion, A Tale for the Time Being by Ruth Ozeki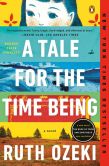 In Tokyo, sixteen-year-old Nao has decided there's only one escape from her aching loneliness and her classmates' bullying. But before she ends it all, Nao first plans to document the life of her great grandmother, a Buddhist nun who's lived more than a century. A diary is Nao's only solace—and will touch lives in ways she can scarcely imagine. Across the Pacific, we meet Ruth, a novelist living on a remote island who discovers a collection of artifacts washed ashore in a Hello Kitty lunchbox—possibly debris from the devastating 2011 tsunami. As the mystery of its contents unfolds, Ruth is pulled into the past, into Nao's drama and her unknown fate, and forward into her own future.
Full of Ozeki's signature humor and deeply engaged with the relationship between writer and reader, past and present, fact and fiction, quantum physics, history, and myth, A Tale for the Time Being is a brilliantly inventive, beguiling story of our shared humanity and the search for home.
---
DONATIONS-Please contribute to the Friends of the Library in Oxford. Every dollar you donate to the
Jane D. Weiss Family Foundation will be matched to double the donation to the Friends of the Library in Oxford.
Donations of $25 and over with your name and address will be acknowledged as a charitable tax deduction.
Thank you for your continuing support.
---
New Kindle Titles available! Please check out our 2 new Kindles donated by the Friends of the Library in Oxford. We just added numerous titles to both machines-Kindle Title List-the newest in fiction and nonfiction bestsellers are available. Come by the library to check them out!
---
Please check out our Overdrive Downloadable Audiobook and E-book Service-
Adults: Click here to get started searching: http://bibliomation.lib.overdrive.com
Kids and Teens: Click here to get started searching: Kids and Teens E-reader Room
For all ages help downloading the initial needed software, check out the videos here:
http://www.overdrive.com/help-videos/
Downloadable audiobook and ebook service from the State Library available now!
Click http://iconnct.oneclickdigital.com to get started.
Comments, suggestions or questions? Contact the webmaster at staff@oxfordlib.org.
Site last updated: March 6, 2014.